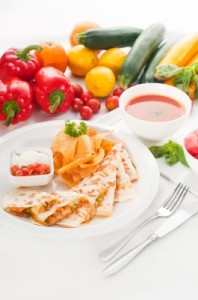 Dietary fiber — found mainly in fruits, vegetables, whole grains and legumes — is probably best known for its ability to prevent or relieve constipation. But foods containing fiber can provide other health benefits such as lowering your risk of diabetes and heart disease, as well as helping you maintain a healthy weight.
High-fiber foods generally require more chewing time, which gives your body time to register when you're no longer hungry, so you're less likely to overeat. Also, eating enough fiber during the day can help decrease your appetite because it slows down the speed of digestion and contributes to feeling full for a longer period of time. And high-fiber foods tend to have fewer calories than the same volume of other foods.
POWERFUL WEIGHT LOSS TIP
               Be sure to consume adequate fiber every day.
The Institute of Medicine, which provides science-based advice on matters of medicine and health, recommends the following fiber intake for adults: about 25 grams per day for women and about 35 grams per day for men.
Check out these Vegetarian Quesadillas for a fun way to get some fiber on the table. They're tasty, nutritious, and easy to make; and each one contains 8 grams of dietary fiber!
Vegetarian Quesadillas
Serves: 3 | Serving Size: 1 quesadilla
INGREDIENTS:
Spray olive oil
6 small, low-fat, whole wheat tortillas
1 can black beans (no added salt), drained
1/4 cup shredded cheddar cheese
DIRECTIONS:
Heat the beans in a covered bowl in the microwave. Heat a nonstick pan over medium heat or heat up a Panini maker or quesadilla maker. Lightly spray the pan with oil.
Place one tortilla on the pan. Top with 1/2 cup beans and 1/3 of the cheddar cheese.
Place a second tortilla over the beans and cheese. Lower the press for the Panini or quesadilla maker, or just cook the quesadilla in the nonstick pan.
Cook the first side until it is brown, about 3 minutes. Flip the quesadilla and cook for 3 more minutes.
Nutrition Information:
Each quesadilla contains 375 calories, 5 g fat, 2 g saturated fat, 0 g trans-fat, 10 mg cholesterol, 116 mg sodium, 66 g carbohydrate, 8 g dietary fiber, 0 g sugar, and 15 g protein.
Each quesadilla also has 1% DV vitamin A, 0% DV vitamin C, 11% DV calcium, and 27% DV iron.
(Recipe courtesy of FoodandHealth.com)
Now I'd love to hear from you.
What's your favorite high fiber food or recipe?
Please share in the comment section below. Your ideas could be very helpful to other readers.
Meanwhile, if you are looking for a nutritionist in New Jersey, contact me @ 732-494-1149 or go to www.NJnutritionist.com for more information.
Image courtesy of  KEKO64 / FreeDigitalPhotos.net