Before we get to that eggplant parm recipe, I've got an important message to share.
Every choice you make will not be perfect when it comes to eating and managing your weight. But that's okay. It's not necessary to be "perfect" to reach your goals. Instead, simply strive to make better choices most of the time. With this strategy, every day will move you closer to your goal and you will achieve success over time. Think about it this way: better is the new perfect.
There will be days when you accomplish everything on your to-do list such as planning out your meals for the week, eating a nourishing breakfast, and taking a 30-minute walk. Other days, you may find yourself slipping back into your old unhealthy habits – and that's okay. Sometimes, just getting out of bed in the morning can feel like a big accomplishment.
HEALTHY WEIGHT TIP
You can't bully yourself into better health. Instead, provide self-care with kindness.
When you do slip-up (as we all do sometimes), shake it off and re-focus your efforts. Don't beat yourself up. It's not likely that you're not going to achieves long-term success with constant self-criticism. Science explains that self-compassion could be the best way to gain better results. Gently remind yourself why you started this healthy eating journey in the first place, and then get back to it. Stay focused on the process and don't dwell on your mistakes.
Meanwhile, check out this healthier Italian Eggplant Parmesan. A comfort food you're sure to enjoy!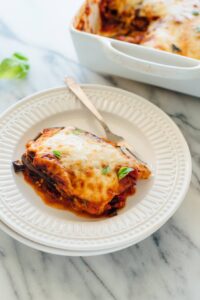 Lorraine Matthews-Antosiewicz, MS, RD
PS…
Have you gotten away from eating healthy since COVID-19 hit? I can help you find simple ways to get back on track so you can feel better again, have more energy, enjoy eating, achieve your personal best weight, and maintain it with ease.
LET'S TALK. I look forward to speaking with you.
If you need help creating a healthy eating plan, give me a call @ 732-494-1149.