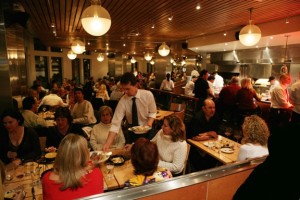 Traveling for business can be challenging with extended hours on a plane or in a car, hectic agendas and long meetings with colleagues. You barely have time to sleep let alone think about how you will find healthy food. However, there are some steps you can take to eat right while you are away so you can power through your busy days. By planning ahead and putting a little thought into your meals, you can eat healthy, avoid gaining weight, and stay within your budget.
Keep these 7 tips in mind and remain flexible so you can eat well in any situation while you are traveling.
Tip 1. Bring Food with You
When preparing for your trip, be sure to pack healthy snacks and water to have while you are en route. If you are flying, you can pack food in your carry-on bag as long as items such as nut butter are in a 3.4 oz. (or smaller) containers and put in a quart-sized clear plastic bag; and you will have to buy your bottle of water after you go through airport security. Over time you will find your favorite version of portable snacks; meanwhile here are some examples of my favorites:
If you are driving, take a cooler with you in the car. This will allow you to bring sandwiches and other perishable items such as yogurt, string cheese, hummus, and hard boiled eggs. Any of these can serve as a quick grab-and-go breakfast, lunch, or snack. You can also take along canned foods with a flip top for easy opening such as of tuna, salmon, and soups. Be sure to pack a reusable container like a Bento Box or a few small zip-lock bags so you can take food with you to your meetings.
Tip 2. Call Ahead
If you will be staying overnight, call ahead to find out if the hotel serves breakfast and what options are available. If you have a choice, stay at a hotel that offers a complimentary breakfast bar such as this Holiday Inn Express.
When you take a quick scan of the buffet, you'll see sweet cereals, donuts, pastries, white bagels and yes, the do-it-yourself pancake machine. Refined carbs, fat, and sugar! But if you look between the junk you'll see a few healthier options including fresh fruit, unsweetened oatmeal and dry cereal like Cheerios, whole wheat bread, and yogurt; go for those. If eggs are available, have one for some extra protein to keep you feeling satisfied longer. Make it a hard-boiled or scrambled egg; and skip the cheese omelet, bacon, and sausage.
Tip 3. Stock Up on Healthy Essentials
Many hotels offer rooms with a mini-fridge and a microwave. Call ahead and make this request if possible. As soon as you arrive at the hotel, find a nearby mini-market or convenience store like Wawa and stock up on healthy essentials such as low sugar whole grain cereal and milk, fruit, veggies such as baby carrots and grape tomatoes, nuts, low sugar yogurt, low fat string cheese, whole grain crackers, and peanut butter. These can serve as an on-the-go breakfast or healthy snacks between meals so you don't feel famished and tempted to eat junk.
Tip 4. Choose Wisely at Meetings
At the meeting, skip the pastry and donut platter. Choose fresh fruit if available; and be prepared with your own healthy snacks. Consider bringing single serving portion of nut butter in case there happens to be a healthy whole grain bagel offered or a place nearby where you can purchase one. If you are attending a catered breakfast or lunch meeting, try to find out what will be served and whether there is any way you can order a healthier option if you feel that the choices are less than ideal.
Drink mostly water, tea or coffee during meetings instead of sugary, high-calorie or artificially sweetened soda and fruit drinks. You can keep yourself well-hydrated and save hundreds of calories throughout your day by sipping on water instead of a sweetened beverage.
Tip 5. Go Lean for Lunches
When lunchtime comes, skip the restaurant and head right to a grocery store if there is one in the area. Pick up a pre-made salad or make your own at the salad bar. Add lots of fresh veggies to your salad, a lean protein choice such as grilled chicken, and top it off with a drizzle of low fat dressing. Avoid the fatty salty croutons, cheeses, and creamy pasta and potato salads. Pick up a piece of fruit and you've got a healthy, budget-friendly meal. Another option is to purchase a few ounces of lean sandwich meat and a whole wheat roll to make your own sandwich. Pita bread with hummus is another good grocery-store meal choice that doesn't require any prep. If you have a refrigerator in your room, you can buy multiple meals from the store and bring them back to your hotel.
If there's not a grocery store is the area, look for a deli and order a basic chicken or turkey sandwich without the cheese. Load up on lettuce, tomatoes and veggies but not mayo and dressings; and skip the bag of chips.
Another option is a convenience store like 7-Eleven, QuickChek or Wawa where you can pick up a sandwich, wrap, or salad. Many of these stores are expanding their fresh food sections and they typically post nutrition information online and on-site so you can check ahead of time for the healthiest option. They also offer fruit, cut-up veggies, and other nutritious options like yogurt and nuts, but you'll have to walk right past the candy bars to get to them.
If you have no choice but to eat at a fast food restaurant, use a mobile app like HealthyOut to quickly find and order healthy, budget-friendly meals. It's free to download and available for iPhone and Android. Menu prices are provided as well as healthy suggestions for delivery, pick up and dining out in over 500 cities across the US. Filters allow you to modify a search for different cuisines, calories, and other nutrition options such as heart healthy.
When ordering from a fast-food restaurant, skip the unhealthy super-size combo meals, fries and soda. Here are a few healthier options for under $5; add a drink (preferably water or unsweetened iced tea) and you're good to go.
McDonald's side salad, grilled chicken snack wrap (no cheese/no dressing), and a fruit n' yogurt parfait
Cost: around $4 ($1 for salad, $1 for parfait, and $1.99 for wrap)
A fruit n' yogurt parfait is going to cost you around a buck, and in terms of nutrition, it'll cost you 150 calories and 2 grams of fat. The parfait also contains 4 grams of protein, and over 10% of your daily values of both Vitamin C and calcium.
In total, this wrap/yogurt/salad meal contains only 430 calories, which isn't too bad for a drive-thru meal under $5.
Wendy's small chili and side salad
Cost: around $3.60 ($1.49 for garden salad, and $2.09 for small chili)
Wendy's chili is a great choice for someone looking to eat healthy without breaking the bank. A small chili contains only 170 calories, 5 grams of fat, and 45 calories from fat. It also has 4 grams of fiber, 15 grams of protein, and 15% of your daily value of iron. Once you add in a side garden salad, which provides you with additional protein, iron, potassium, Vitamin A, and Vitamin C, without adding too many calories, this makes for an all-around healthy meal.
Subway 6-inch sub on 9-grain wheat (ham, turkey, ham and turkey, or veggie delight)
Cost: around $4.25 for a 6-inch turkey breast sub
For less than $5, Subway offers several healthy options. That is, if you refrain from loading your sub up with bacon, cheese, mayo and other fattening options. They include the 6-inch sandwich versions of Black Forest Ham, Turkey Breast, Turkey Breast & Black Forest Ham and Veggie Delite.
Tip 6. Strategize Your Dinner Meal
When dining out at a restaurant for dinner, select simply prepared entrees that provide lean protein such as salmon, chicken, beef or a vegetarian option. Add a baked potato, steamed or grilled vegetables, and a side salad. Limit high-fat preparation methods such as frying, sautéing, breading, and watch for hidden calories in sauces. Ask for dressing on the side so you can use a smaller amount or simply dip the end of your fork in the side dish before each bite.
You may want to consider splitting a full entrée with a coworker since portion sizes have gotten totally out of control at most restaurants; this can save your waist line and your budget. If you don't want to split your meal, request a to-go box if you have a fridge in your room. This way you've essentially paid once to feed yourself twice: leftovers can be eaten for lunch the next day.
Finally, try not to indulge too much in bread, dessert, and especially alcohol. Avoiding these will save you calories and money. Restaurants tend to markup drinks quite a bit – about 300 to 400 percent. Mixed drinks can cost nearly the same amount as an entrée, so foregoing a drink can nearly cut your dinner bill in half.
Tip 7. Get Moving
Pack plenty of workout clothes and shoes, and research your destination to learn about your hotel's gym access or other opportunities to exercise in the vicinity. You can do some simple exercises in your room. The open space in front of or beside your hotel bed provides the perfect space for Pilates or yoga, light aerobics such as jumping jacks or step ups, and calisthenics using your body weight for pushups, squats, and lunges. Just because you are on a business trip, your work-out routine does not need to fall apart.
A little dedication and planning can help you stay in shape when you're traveling. Exercising doesn't need to be an elaborate, exhaustive process. Just doing something simple makes a difference for your overall health: walk somewhere, take the stairs, stretch.
It's been known for some time that – in addition to keeping you strong and fit – exercise can lift your mood, ward off depression, and prevent the memory loss and dementia that come with aging. But now researchers have found that just one bout of exercise each day can improve your mental focus and cognitive performance. Another good reason to get moving!
Now I'd love to hear from you.
How do you eat healthy and stay on budget while traveling for business?
Please share in the comment section below. Your ideas could be very helpful to other readers.
Don't forget to check out my EveryDay SugarFree program. Dump sugar from your diet and start feeling better right away. Lose weight and get your energy back! Click here to learn more.