With Halloween coming up and Thanksgiving right around the corner, pumpkins are everywhere.  Jack-o-Lanterns and pumpkin pie are a big part of the traditions during this time of year. But did you know that pumpkins are actually a type of squash?!  That's right; they are in the same family as Butternut Squash, Acorn Squash, and Spaghetti Squash – all nutritious and delicious vegetables.
Although I enjoy all types of squash, my favorite is Spaghetti Squash. This unique vegetable produces thin, translucent spaghetti-like strands that can easily be scraped out with a fork after cooked. I know it's hard to imagine how squash can resemble spaghetti, but it does. If you've never cooked or eaten this type of squash, I recommend giving it a try.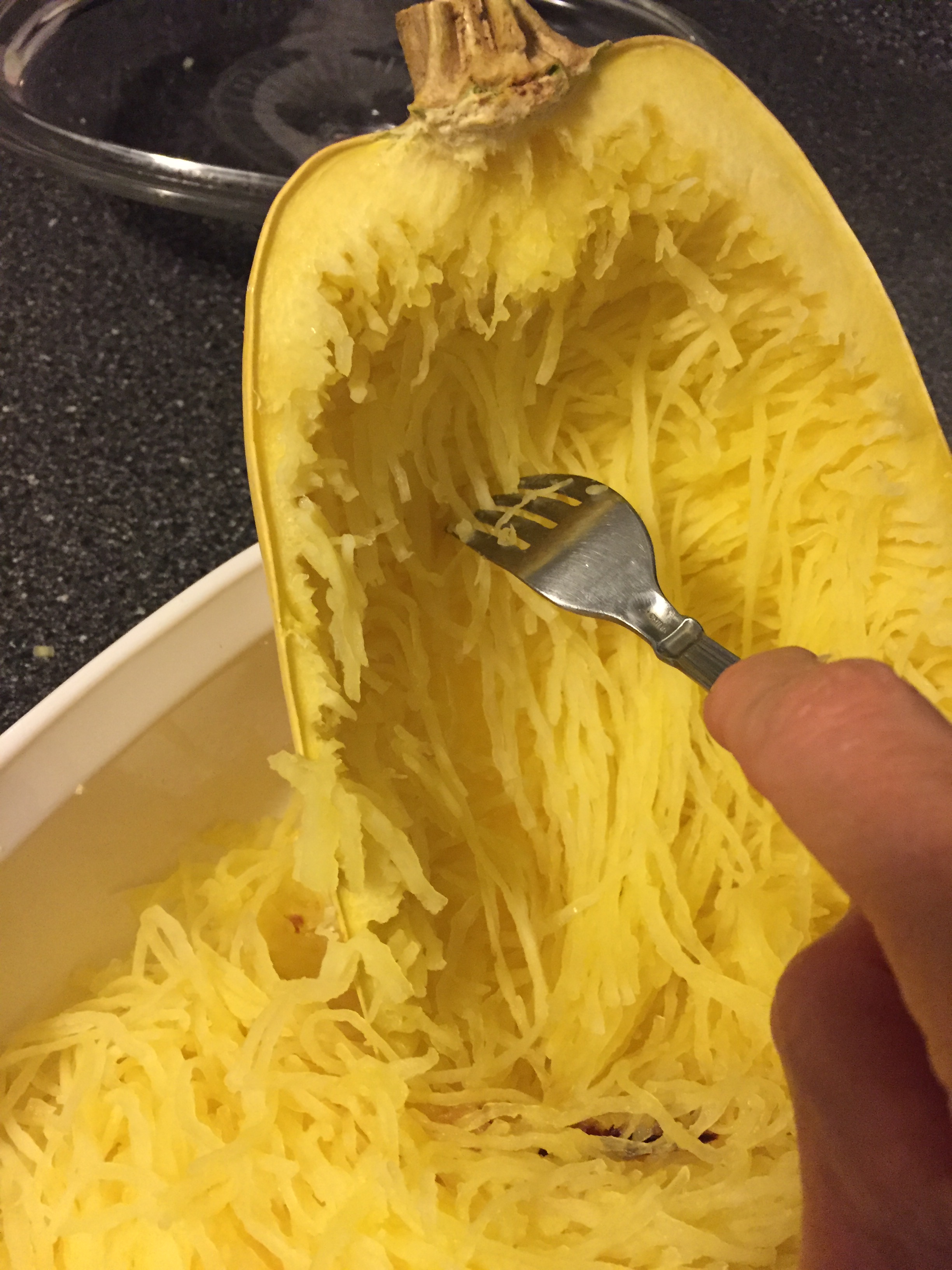 Not only is Spaghetti Squash a fun food, it's loaded with potassium, Vitamin C, Vitamin A, and other antioxidants.  And –  to add to the appeal – it's low in calories (only 40 calories in one cup cooked), fat, sodium, and carbohydrates. So, if you are watching your weight, this veggie makes a tasty alternative to pasta and it's high in fiber to keep you feeling full longer.
Check out this yummy recipe. It's an easy way to get a couple of servings of vegetables in one meal.
Cheesy Veggie & Spaghetti Squash Bake
Serves: 6
Ingredients
1 whole spaghetti squash
2 Tbsp. olive oil
1 red pepper, diced
1 zucchini, diced
1 carrot, shredded
2 cloves garlic, minced
1 tomato, diced
16 oz. tomato sauce
4 oz. shredded mozzarella cheese
¼ cup shredded Parmesan
Directions
Preheat oven to 350° F.
Poke spaghetti squash all over with a knife and cook in the microwave for 8- 12 minutes until soft. If you don't have a microwave, place the poked squash on a baking pan and bake at 375° F for 45 to 60 minutes.
While squash is cooking, add the oil, garlic, pepper, zucchini, and carrots to a pan, cooking over medium heat.
Cut the squash in half, scoop out the seeds, and scrape the flesh from the peel with a fork. It should flake off easily in strings, resembling spaghetti. Place the spaghetti squash flesh in a casserole dish. Add the cooked veggies, diced tomato, sauce, and most of the cheese and mix well. Sprinkle leftover cheese on top and bake for 30 minutes or until the cheese is bubbly.
Allow to cool for five minutes, serve, and enjoy!
(Recipes source:  www.fruitsandveggiesmorematters.org)
Lorraine
PS…
Looking for more healthy recipes?  Get your own Anti-Inflammatory Diet Plan with recipes for breakfasts, lunches, dinners, and snacks.  Try it out for FREE today.