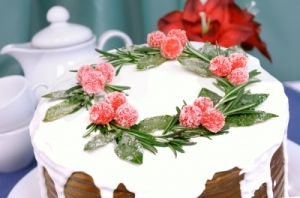 When presented with all of the beloved family recipes and tasty dishes expected at any holiday get-together, it can become difficult to say "no." Good news: you don't have to!
Here are a few simple tips to make the holiday season more healthful and less guilt ridden.
Make realistic goals. The holiday season is not the time to place added stress on yourself by attempting to diet and lose weight.
Use smaller plates if available when at a buffet-style party.
Try eating a healthy snack before going to a party to ease your hunger.
Conversation is calorie-free, but move away from the buffet so you won't be tempted to eat while you talk.
Scope out the buffet before you go up to make your selections.
Balance what you eat at parties with what you eat during the day.
Remember that beverages contain calories as well. Alcoholic beverages, home-made punches, and chocolatey beverages tend to have sneaky calories that you may not bargain for. Consume these in moderation!
Watch your portion sizes and take small "tastes" of high calorie dishes.
(Source: Academy of Nutrition and Dietetics www.Eatright.org).
Now I'd love to hear from you?
How do you plan to stay focused on healthy eating this holiday season?
Please share in the comment section below. Your thoughts could be very helpful to other readers.
Meanwhile, if you need help if you want to lose weight and need help getting started, check out my Free Self-Assessment. Go to, https://njnutritionist.com/freeconsult
Image courtesy of Apolonia / FreeDigitalPhotos.net