Naturally Sweetened Irish Soda Bread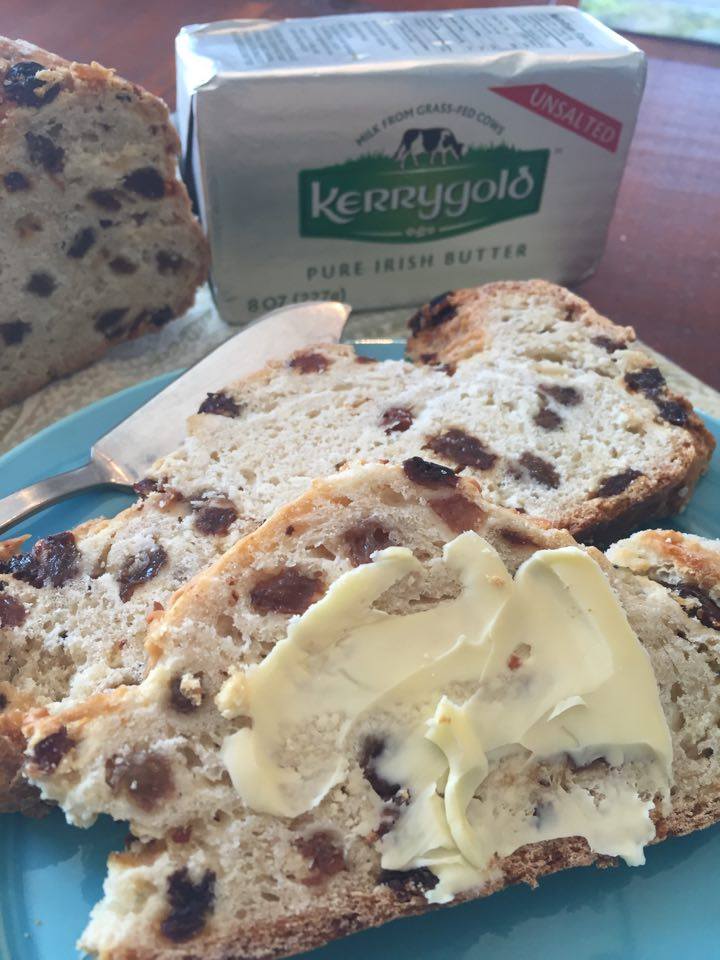 Serves 6 – 8
Traditional Irish soda bread is made plain, without sugar or raisins. I enjoy mine with raisins for a bit of natural sweetness; however feel free to leave them out.
INGREDIENTS
1 cup all-purpose flour
1 cup whole-wheat flour
3/4 tsp baking soda
1/4 tsp salt
1 cup buttermilk
1/2 – 3/4 cup currants or raisins (dark or golden)
DIRECTIONS
Preheat oven to 450°F. Lightly oil a baking sheet and sprinkle with a little flour; or line with parchment paper.
Whisk whole-wheat flour, all-purpose flour, baking soda and salt in a large bowl. Make a well in the center and pour in buttermilk. Use your hand to mix the dough. Spread your fingers and mix in a circular motion to keep the dough light and airy; mix just until it holds together.
Turn the dough out onto a floured surface, shape it into a round, and transfer on to the baking sheet. Make the round of dough no thicker than 1-1/2 inches in the center.
Using a small sharp knife, cut a 1/2-inch deep X into the top of the loaf extending almost to edges.
Bake for 15 minutes at 450°F; and then lower the oven temperature to 400°F. Continue baking until bread is golden brown and sounds hollow when tapped on the bottom, another 15 – 20 minutes.
Cool on the baking sheet for 5 minutes before turning bread out onto a wire rack. Then cool to room temperature, about 2 hours, before slicing and serving.
I'd love to help you eat healthy, lose weight, and feel awesome every day.
Let's start with a conversation!
Call me at 732-494-1149 or send me an email.
Lorraine Matthews-Antosiewicz, MS, RD