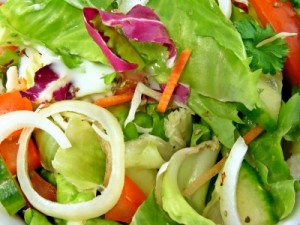 Plants are the absolute foundation of a healthy diet, providing all sorts of nutrients and fibers that play a role in disease prevention. Eating more plants tends to displace higher-calorie foods, balancing your diet and controlling hunger. Making veggies part of your eating plan every day can help you to lose weight and keep it off.
For those of you who find it challenging to get in enough vegetables every day, check out this salad in a jar. You just can't get any easier than this Quinoa-Arugula Layered Salad. Make ahead. Grab and go.
This satisfying salad is a favorite of mine. It contains quinoa (keenwah) – a whole grain that provides twice as much fiber and more protein than other grains – and it tastes great with salad greens. Give it a try. And when you do, let me know what you think. I'd love your feedback.
And if you have any other creative veggie ideas, please share in the comment section below. Your ideas could be very helpful to other readers.
Meanwhile, summer is here and it's the perfect time to re-focus on taking care of yourself. Losing weight is easier when you have a personalized eating plan and support.  I'd love to help you with that.  Give me a call today and let's set up a time to meet.
Image courtesy of Grant Cochrane / FreeDigitalPhotos.net