Thanksgiving Day is meant to be just that – a day of giving thanks – yet many of us find this day incredibly stressful.  There are worries about family dynamics, meal preparation, and overeating that can turn the day from thankful to dreadful. Add to that the pandemic sweeping our nation and giving thanks may feel like the last thing we want to do. Thanksgiving just won't be the same this year and that's sad.
Despite our troubles, there are many blessings. We may need to dig a little deeper to see them this year, but they are there. Personally, I am incredibly grateful for telehealth as it has allowed me to continue providing my services to those who need and want to improve their health. I love my job so being able to continue working virtually has been a true blessing.
What are you thankful for this year?
Before sharing my apple pie recipe, I'd like to offer you 5 tips to help keep your Thanksgiving as happy and healthy as possible.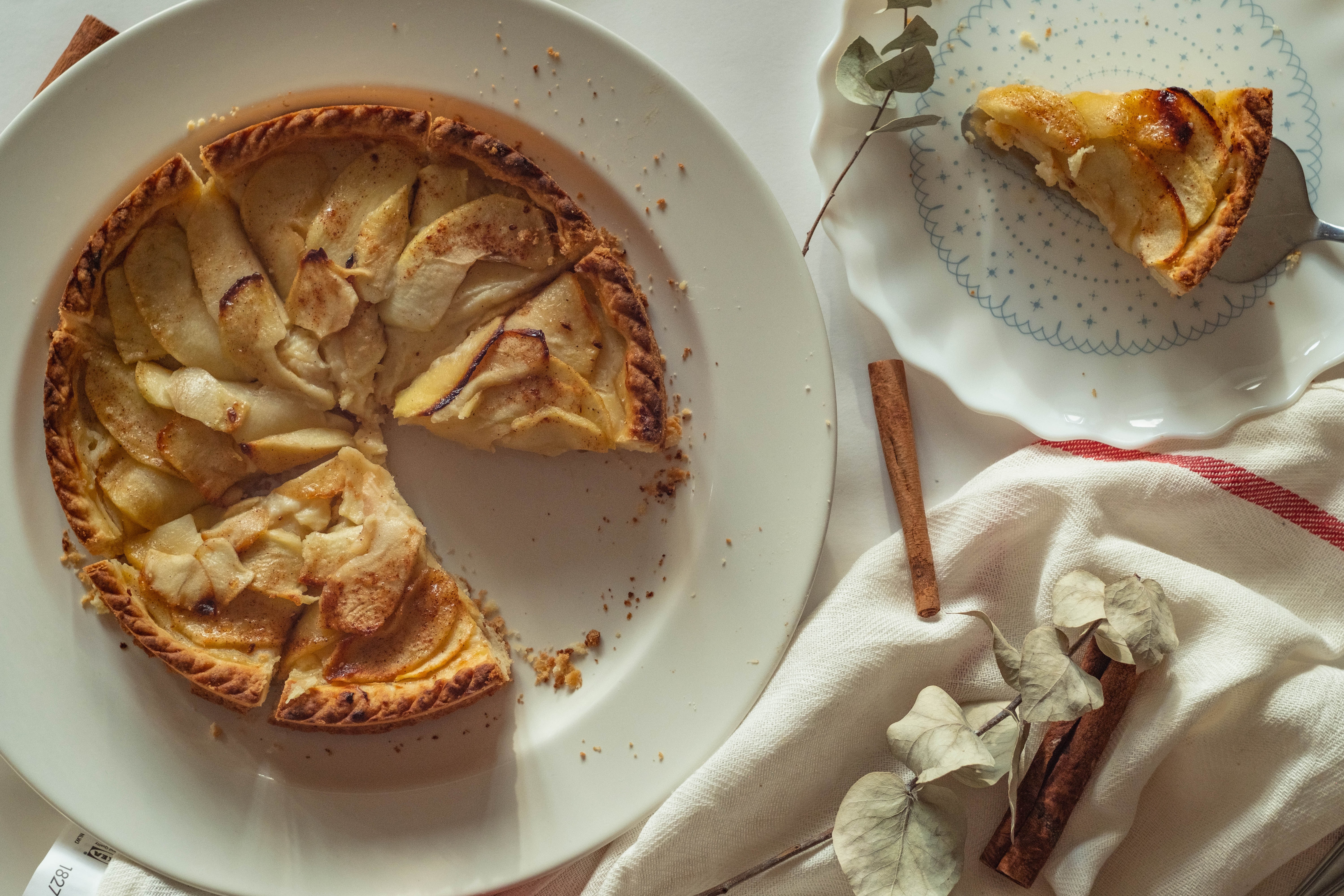 1. Eat to feel well.  Overeating (or being too restrictive) doesn't feel good physically or emotionally.  It can lead to digestive distress, bloating, brain fog, lethargy, guilt, and even depression.   Be mindful when you eat.  Pay attention to how you feel before, during, and after a meal or snack.   Mindful eating is the best way to satisfy your appetite and leave you feeling energized; and it's a remarkably effective strategy to help manage your weight during the holidays and every day.
2.  Get outside and go for a walk.  Sunlight, fresh air, and exercise have been shown to be instant mood boosters.   Getting outside (especially in nature) and going for a brisk walk can help you deal with the stress and anxiety – even the sadness – that we so often experience around the holidays.
3. Just breath. Sh*t happens (as the saying goes) and all too often things don't go our way. This can be extremely stressful especially during the holiday season when there is so much to do.  Instead of trying to control everything, focus on controlling the controllables and letting go of the rest.  How, you ask?  Start by taking six to 10 slow deep breaths or try these quick breathing exercises to relax.  Another simple strategy to help you de-stress is meditation.  If you think you can't do it, check out this video  and see how anyone – even a skeptic like you – can learn how to meditate.  All you need is a few minutes and a quiet corner. 
4. Hydrate and feel great.  It's so easy to forget about drinking water during the day especially when you have a hectic schedule.  This can very quickly lead to dehydration and cause more than just thirst and dry lips.  Dehydration can set the heart racing and make you feel light-headed, dizzy, and even alter your mood according to two studies conducted at the University of Connecticut's Human Performance Laboratory.  Be sure to drink enough water to stave off those "thirsty" mood swings and keep your body feeling energized. 
5. Get your Zzzs.  Not only does adequate sleep help you feel good and look your best, it's also a key part of a healthy lifestyle, and can benefit your heart, weight, mind, and more.  Here are some of the health benefits researchers have discovered about a good night's sleep.  Do your best to get seven to nine hours of sleep every night especially around the holidays; you'll feel better. If you struggle with this, check out these tips to help you get your Zzzs during the holiday season.
Now, here's the recipe for my Naturally Sweetened Apple Pie.  Be sure to save room for dessert!

Lorraine Matthews-Antosiewicz, MS, RD
PS…
Have you gotten away from eating healthy since COVID-19 hit? I can help you find simple ways to get back on track so you can feel better again, have more energy, enjoy eating, and achieve your personal best weight and maintain it with ease.
If you need help creating a healthy eating plan, LET'S TALK.  Call me @ 732-494-1149.  I look forward to speaking with you.