I've been anxiously awaiting the arrival of this box. Guess what's inside? Hint: its proof positive that the chicken comes before the egg – at least in my world.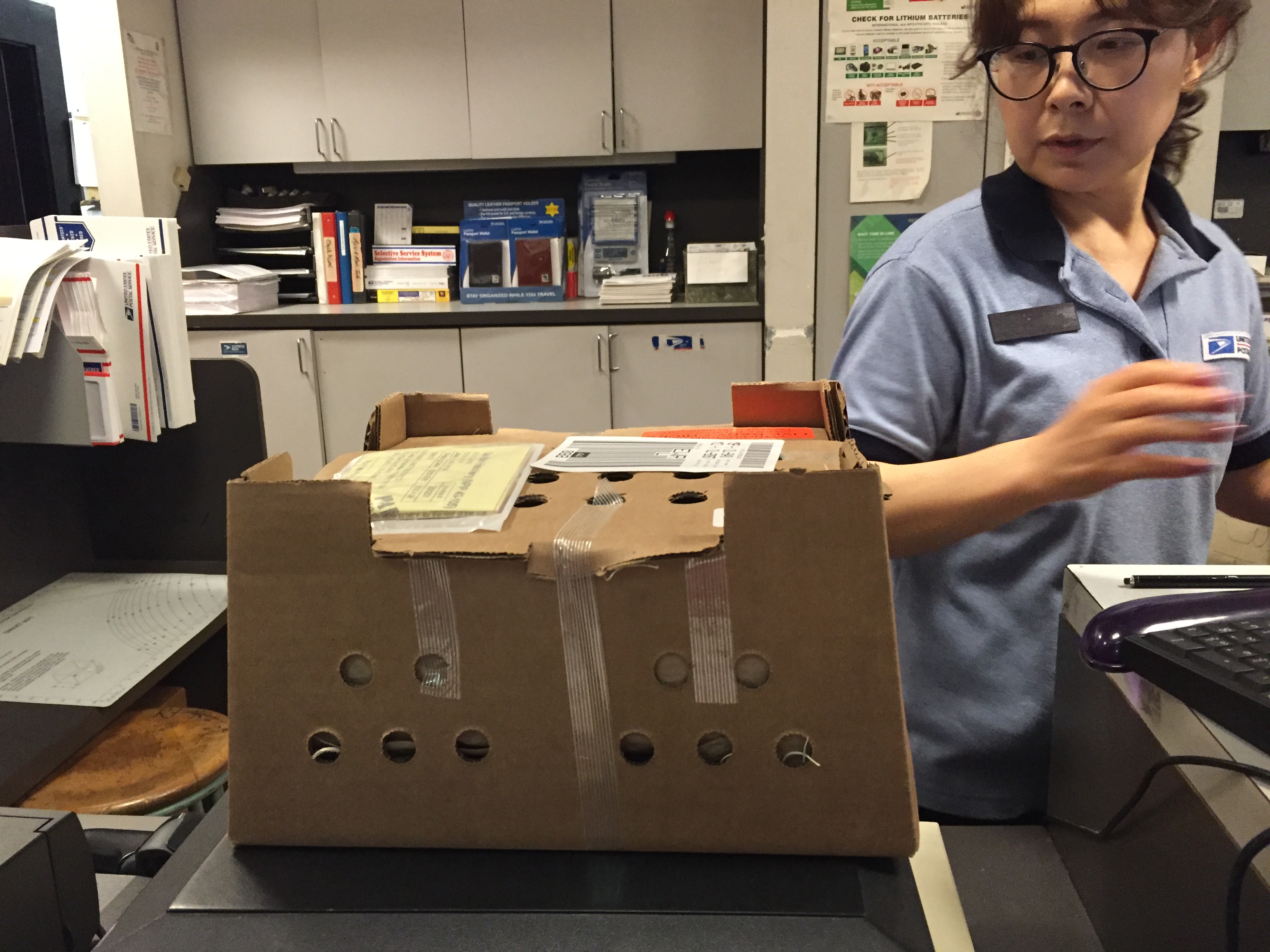 If you guessed that the box contained 7 little baby chicks, you were right! Here's a picture of them the day they arrived.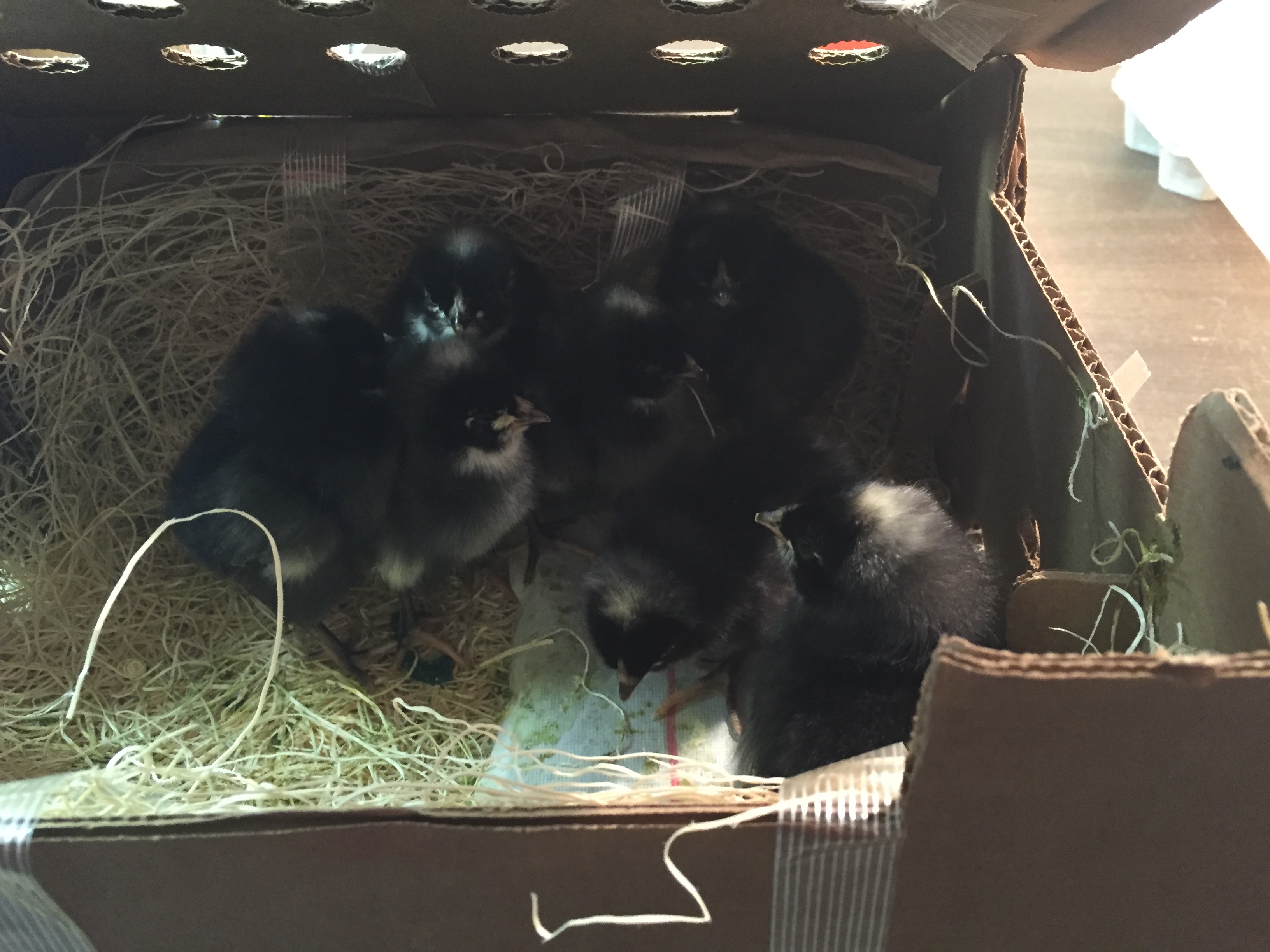 I ordered them from Cackle Hatchery in Missouri. They were shipped via the USPS and arrived in 2 ½ days. Newly hatched chicks have a 3 day supply of yolk left in their system for nourishment so they are able to survive the trip without food. If you are interested in learning more about ordering and caring for baby chicks, click here.
My reason for wanting my own chickens is all about the eggs. I love eggs not only for their deliciousness but for their nutritious-ness as well. Eggs are loaded with high-quality proteins, vitamins, minerals, good fats, and various trace nutrients. A large egg contains about 75 calories with 5 grams of fat, 6 grams of protein, and all 9 essential amino acids. They are rich in iron, phosphorous, selenium, and vitamins A, B12, B2 and B5. According to the new 2015 US Dietary Guidelines, eggs are no longer considered a health hazard. Click here to read more.
I grew up in the Pine Barrens of New Jersey with chickens living in a small coop in our backyard. The fresh eggs were abundant and delicious; I ate one most every day! During the laying months (longer daylight), we had many more eggs than we could eat. My entrepreneurial wheels started turning (even back then) and I saw the business potential. I decided to sell the eggs we weren't eating to my neighbors. Initially, I went door-to-door peddling them for 65 cents a dozen. Within a few weeks, I had a very lucrative "egg-route" that continued to grow by word-of-mouth. I was about 11 years old and that's when I first realized that I had a good business sense and enjoyed working for myself.
Now, let's get back to present day and my 7 little Dominique chicks. Check out this video of them at 3 days old. Aren't they so cute?
I took this video today of the chicks at 3 weeks old. Look at how much they've grown! I brought them outside for the first time and they loved it! They are incredibly cute and friendly; and love being held and cuddled.
Once these little ladies are old enough to live outside, they will be going to Hampton, NJ to live with my cousin, George. I will miss them, but he has a bigger property than I do and enough space for them to live comfortably. George and I both love eggs and plan to share them. Our chickens should start laying in about 5 months – daylight permitting.
Did I mention I love eggs? One of my favorite ways to eat eggs is in a frittata with lots of veggies. Click here for my favorite frittata recipe. It's so easy and delicious. Enjoy!
In order to feel well and look your best, you need to eat well.
Are you giving enough thought to your food choices lately?
If you want to eat healthier and need some guidance, let's talk. I would LOVE to help you with that.
Send an email or give me a call @ 732-494-1149.
You deserve to look and feel amazing. We can make that happen together!