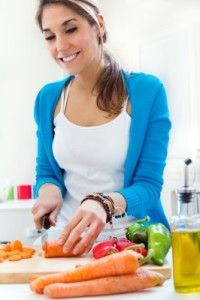 If you are trying to lose some weight, I've got some really exciting news for you. A recent study published in Public Health Nutrition Journal suggests that people who cook at home most of the time consume generally healthier meals with around 200 fewer calories daily, and only 16 grams of sugar (4 teaspoons) which is much less than the 22 teaspoons per day consumed by the average adult. This means that you can drop some pounds without going on another rigid diet that leaves you feeling aggravated, hungry, and weighing the same – or more. All you have to do is start cooking at home more often!
While it can be a challenge for most people to cook at home daily, the good news of the study was that cooking at home just 2-3 days per week was associated with decreased calorie consumption and improved diet quality – less sugar, fat and salt. The tricky part is translating these findings into action. Many people need to overcome some very real barriers of regular home cooking including lack of time and cooking skills.
These 5 simple steps will help you (and your kitchen) get ready for preparing home cooked meals.
If you don't usually cook, start gradually. Make it a goal to cook once a week and work up to cooking more often.
Be more efficient and make better food choices by planning ahead. Use a meal planner and prepare an organized grocery list every week. Be sure to always have healthy staples on hand, such as dried fruit, whole wheat pasta, frozen vegetables and "no-salt-added" canned vegetables, and frozen seafood.
Go grocery shopping once a week and don't forget to take along your grocery list. This is less stressful and time-consuming than attempting to navigate through the grocery aisles and then wait on the check-out line night after night on your way home from work. And you will never again have to stare into your fridge wondering, "What's for dinner?" or resort to fast food take-out.
Prep meals the night before or in the morning. Cutting up veggies for the salad or side dish can help save time after work. Also try cooking a big meal on the weekend and serve it as leftovers during the week or freeze it for another time.
Experiment with new recipes so you don't get bored; and look for ways to make your old standby recipes healthier. For example, use spices and herbs to add more flavor instead of adding salt or fat.
Now it's time for you to get cooking. Here's one of my favorite everyday side dish recipes complements of my good friend, colleague and avid home cook, Patricia Stefanicha. Here's what Pat has to say about her Cauliflower Fried Rice:
"Want to satisfy both your taste buds AND your desire to feed yourself and your family a quick, healthy meal? Take-out might sound like a good idea after a busy day, but I have a better solution. This Cauliflower Fried Rice is my favorite week night go-to meal. Cauliflower is the chameleon of the vegetable world. It has the amazing ability to stand in for other higher carb ingredients. In this recipe, finely chopped cauliflower takes the place of rice.
If you're really pressed for time, convenient produce items, such as pre-cut veggies, can help you get dinner on the table so quickly you'll wonder what you ever saw in take-out! Feel free to personalize your Cauliflower Fried Rice by adding any of your favorite vegetables to the mix. Pair it with some grilled chicken and you'll have a quick, healthy meal you can feel good about!"
Cauliflower Fried Rice
Makes 6 servings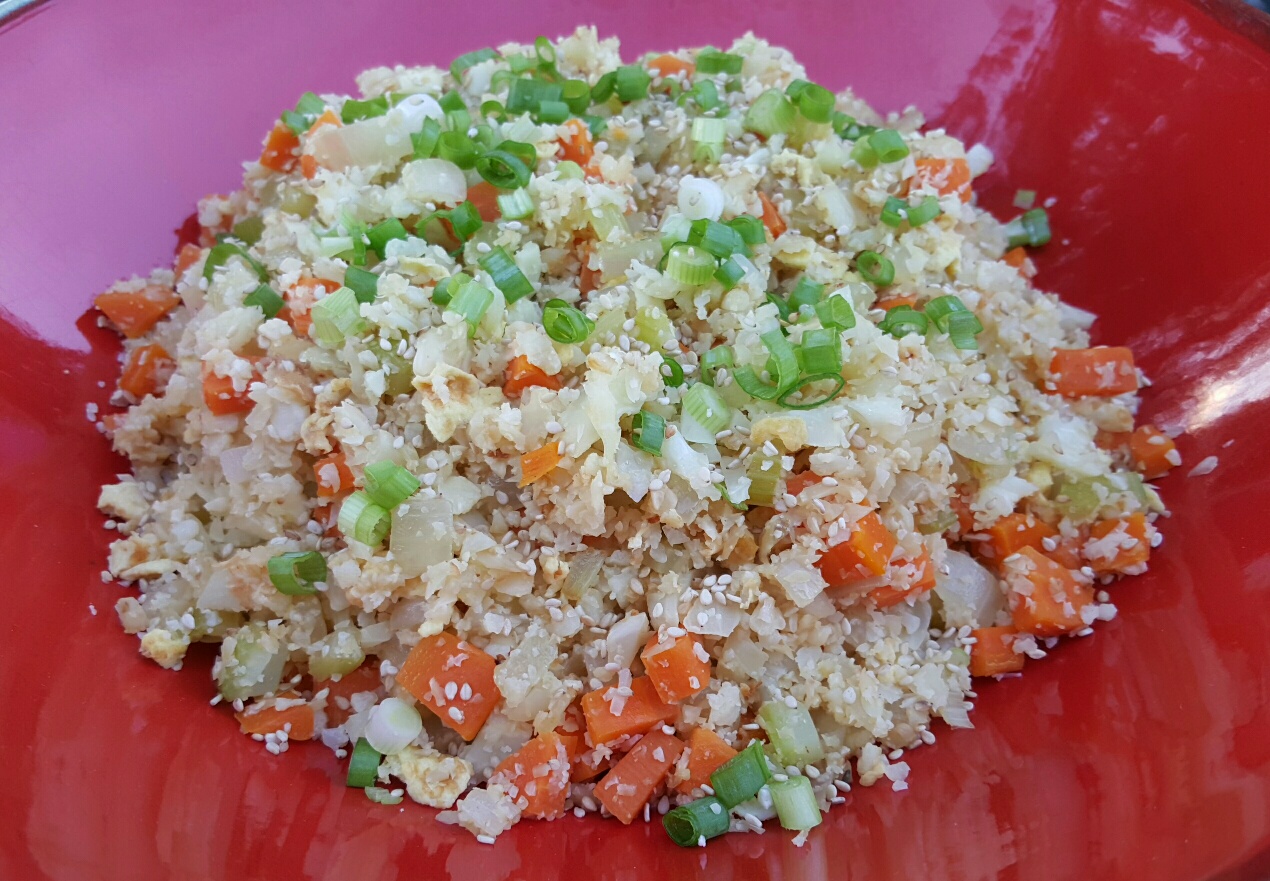 Ingredients
1 medium size head of cauliflower
1 medium onion, diced
2 ribs celery, diced
2 large carrots, peeled and diced
2 teaspoon minced garlic
2 tablespoons olive oil, divided
1 egg, beaten
2 teaspoon low sodium soy sauce or Coconut Aminos
2 scallions, chopped
1 teaspoon sesame seeds
Directions
Break cauliflower into florets and place in bowl of food processor. Pulse several times until a uniform consistency of small particles is achieved. Alternatively, grate the cauliflower with a box grater.
Heat a large non-stick skillet over medium heat. Add 1½ tablespoons of olive oil to pan, followed by onion, celery, carrot and garlic. Cook over medium heat for about 5 minutes, stirring frequently.
Push all vegetables to edges of skillet, making a clear spot in center of the pan. Add the remaining 1/2 tablespoon of oil and the beaten egg. Let it cook until the egg begins to set, less than a minute, and then combine with the vegetables.
Add the cauliflower and toss everything together. Continue to cook over medium heat for another 5 minutes or so, until cauliflower just begins to brown slightly.
Drizzle on the soy sauce or Coconut Aminos and give everything a final toss. Top with sesame seeds and scallions. Serve as a side dish.
Patricia Stefanicha is a Registered Nurse with over 35 years of experience in the healthcare field. She is an excellent cook and baker who believes in using wholesome real ingredients to prepare healthy home-cooked meals and treats for her family and friends. She enjoys finding new recipes which she can adapt to fit her mostly sugar-free lifestyle. Patricia is an administrator and group leader for the NJ Nutritionist 10-Day SugarFree Challenge Facebook group.
Now I'd love to hear from you.
What's on your dinner table? Recipes welcome!
Please share in the comment section below. Your ideas could be very helpful to other readers.
Meanwhile, check out my 10-Day Sugar-Free Challenge. Dump sugar from your diet and start feeling better right away. Lose weight and get your energy back! Click here to learn more.
Image courtesy of nenetus at FreeDigitalPhotos.net