Make your morning mealtime quick, easy, and healthy with this energy-boosting recipe.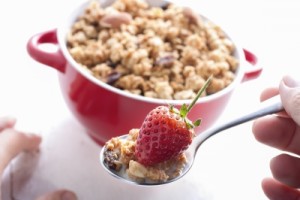 Overnight Oats
Yield: 1 serving
Ingredients
1/3 cup rolled oats (not instant or quick)
1/3 – 1/2 cup milk or unsweetened non-dairy alternative (depending on how thick you like it)
1/3 cup plain Greek yogurt
1/2 ripe banana
1/2 tbsp. chia seeds
Pinch cinnamon
Directions
Stir everything together in a bowl or Mason jar, and securely cover. Place in fridge overnight or at least 6 hours. In the morning top with more cinnamon, sliced fruit, and something crunchy like sugar-free nut butter or chopped nuts. Enjoy!
Want more amazing recipes like this one – plus meal plans, tips, advice, and motivation to help you can kick your sugar habit?
Join my EveryDay SugarFree Program!
We've got everything you need to make it happen. Click here to learn more.
Image courtesy of joephotostudio at FreeDigitalPhotos.net