Is your lunch getting a little boring? Are you running out of healthy lunch ideas for work?
Shake things up with lunch in a jar.
The idea is really very simple. Start by adding dressing into a jar and then layer various ingredients like greens, grains, beans, chicken, avocado, and veggies. When it's lunchtime, grab a bowl, empty the jar, and dig in.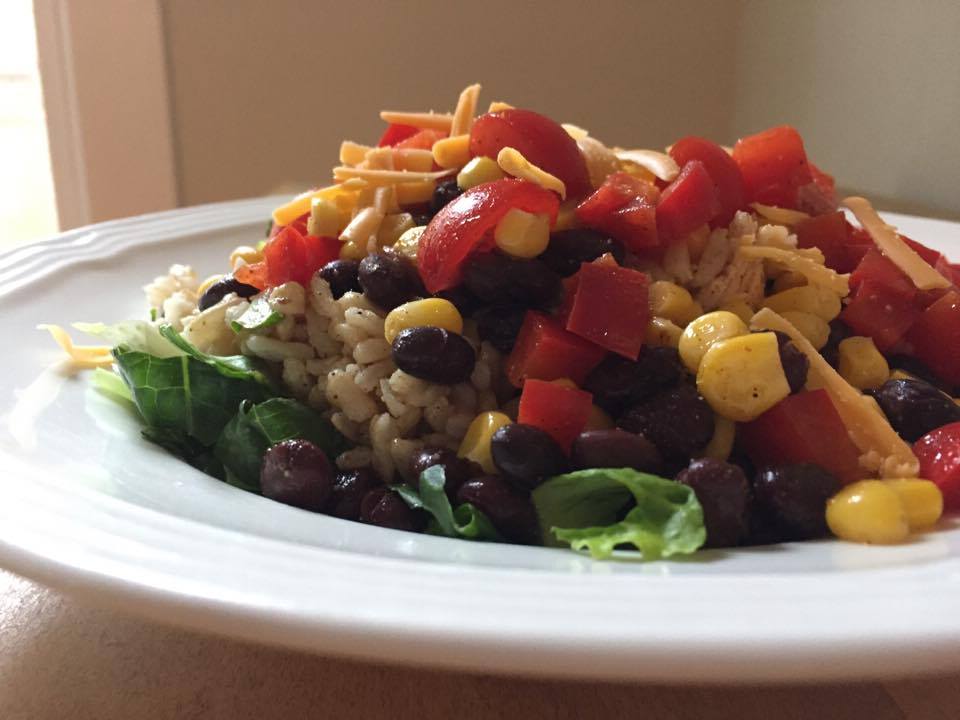 Watch this quick video to see how prepare a salad in a jar lunch in just a few minutes.
The perks of lunch in a jar…
With just a few minutes of prep work, lunch is set for the entire week. Mason jar salads keep for about four days in the fridge.
Transport is easy and convenient. Just grab a jar and go.
It's a simple way to bump up your veggie consumption, control portion sizes, and manage your weight.
How to make a Mason Jar Salad:
Bottom layer – Add your dressing first to keep it from touching the delicate greens so they don't get soggy and limp. Any type will do but homemade is best.
Second layer – Use crunchy/firm vegetables like carrots, broccoli, cauliflower, corn, tomatoes, peppers, cucumbers, and onions. The more color and variety, the better.
Third layer – This is your where you add protein and/or hearty grains. For example, chicken, fish, chopped or sliced hard boiled eggs, beans or lentils, whole wheat pasta, brown rice, quinoa, farro, or barley. There are so many options to choose from for this layer. Be creative.
Next layer – Dark leafy lettuce or other greens such as spinach, baby kale, shredded cabbage.
On top – Add a sprinkle of seeds (such as sunflower or pumpkin), nuts (pecans, walnuts, etc.), or shredded cheese.
This Chicken Burrito Bowl in a Jar is one of my favorites. Not only is it easy to assemble, it tastes great and is a much healthier option than fast food or take-out for lunch.
For more Mason Jar Salad recipe ideas, click here.

PS…
Do you need to clean up your diet? Let me make it easy for you. Get a comprehensive meal plan guide that includes Registered Dietitian-approved and chef-tested recipes for breakfast, lunch, dinner, and snacks. Meal plans are customizable and you can generate grocery lists to take the guesswork out of shopping. Learn more and try it out for FREE.