For many people, one of the barriers of eating healthy is cooking – especially on hot summer days when turning on the stove is out of the question.  Understandable, for sure!  But, there's no reason to let this get in the way of preparing satisfying healthy meals.
Skip the fast-food drive thru.  Forget about calling for take-out.  With a little prep and a few basic ingredients, you can get a healthy dinner on the table without ever turning on the stove.
Check out these easy summer meal ideas – no cooking required.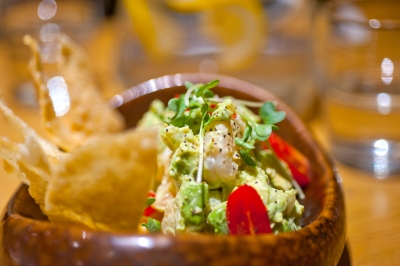 Avocado Greek Yogurt Tuna Salad (no mayo)
Makes 4 servings
Ingredients
1 ripe avocado
¼ cup plain Greek yogurt
½ teaspoon garlic powder
½ teaspoon onion powder
¼ teaspoon salt
¼ teaspoon black ground pepper
1 tablespoon dill relish
2 (4 ounce) cans high quality tuna fish (I like Wild Planet)
1 celery stalk, minced
½ small red onion, minced
Juice from ½ of a lemon
Directions
In a medium bowl mash the avocado; add Greek yogurt and stir until smooth.
Add garlic powder, onion powder, salt, pepper, and relish to avocado mixture and stir until combined.
Add tuna, red onion, and celery to the bowl and mix together.
Squeeze in lemon juice and stir.
TIP:  Make a complete meal by serving on a big bed of lettuce greens with a slice of your favorite crusty bread (preferably whole wheat).
Additional no-cook recipes to add to your list of favorites
This quick veggie-loaded recipe calls for cooked peeled shrimp and pre-cooked seasoned brown rice.    
Tapas Plate With Marinated Chickpeas
Tapas are a Spanish tradition of little bites and small plates.  Just enough!
Chicken Salad With Herbs and Radicchio
This meal is ready in under 20-minutes with the help of a rotisserie chicken.  
Ingredients straight from the garden or farmers market.  A cinch to throw together and so tasty.
Lorraine
PS…
Looking for more healthy recipes?  Get your own Anti-Inflammatory Diet Plan with recipes for breakfasts, lunches, dinners, and snacks.  Try it out for FREE today.