Have you been told to cut out carbs (aka, grains) in order to lose weight?  Well, get this?  According to a recent study, whole grains increased weight loss by decreasing the number of calories retained during digestion, while simultaneously speeding up metabolism.  Researchers say, "The extra calories lost by those who ate whole grains was equivalent of a brisk 30-minute walk – or enjoying an extra small cookie every day in terms of its impact."  The scientists caution that the study doesn't prove that whole grains cause weight loss, but they suspect that it does. It's estimated that this could translate to losing around  five pounds a year – just by just eating grains.  Now, who wouldn't want that benefit of whole grains?
When planning meals and snacks, aim to make at least half of the grains you eat whole grains. 
What are whole grains? When shopping for whole-grain foods, look for labels that say "100% whole grain" or "100% whole wheat."  Terms like "multigrain" or "made with whole grains" are usually not 100% whole-grain products. This stamp on the label from the Whole Grains Council is an easy way to identify authentic whole-grain foods.
To lose weight, you may need to cut down on your total grain consumption.
In general, 1 slice bread, ½ small bagel, 1 cup ready-to-eat cereal, or ½ cup cooked rice, cooked pasta, or oatmeal is considered to be one (1 ounce-equivalent) serving.  The number of servings of whole grain foods you need each day will depend on your overall calorie and nutrient requirements, as well as any health issues.  Consult your registered dietitian nutritionist for personalized recommendations.
I prepared this delicious whole grain recipe instead of potato salad at my Memorial Day BBQ this year and it was a big hit.  My family gave it two thumbs up and asked that I make it again.  Happy to oblige!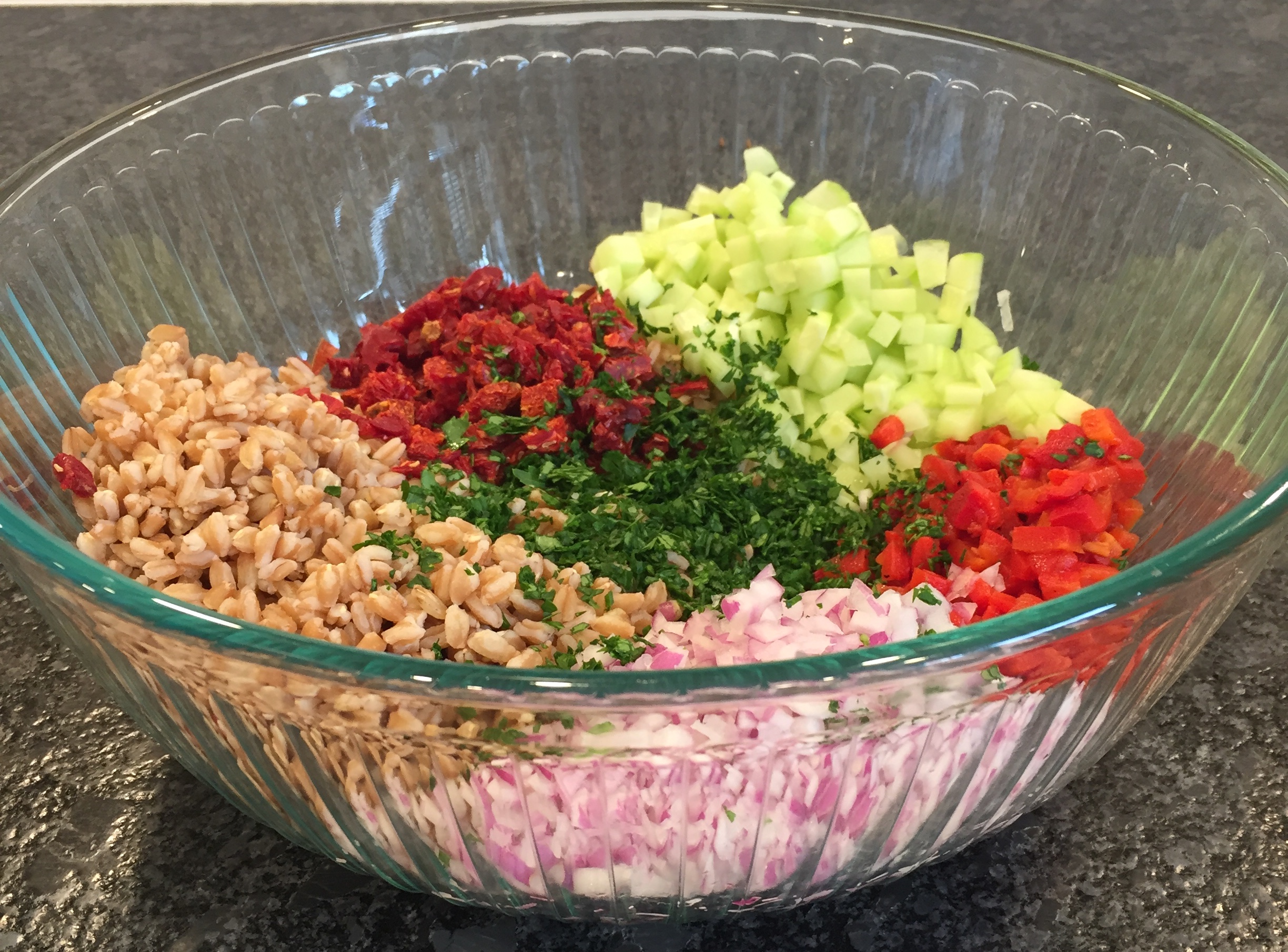 Want more recipes like this?  Let's talk. Learn how to prepare delicious quick meals for yourself and your family – and lose weight while you're at it.
Lorraine
PS…
Losing weight is easier when you have a personalized eating plan and support.  I'd love to help you with that.  Give me a call today and let's set up a time to meet.